Below this post is a YouTube video of a machine that some say is about to change the world of publishing forever - the
Espresso Book Machine.
The EBM can make a book for you in minutes. You simply browse the computerised catalogue, pick the book you want, choose your cover and... wait. An average paperback takes about 2 to 3 minutes.
You can choose to print anything from an old out-of-print classic to a new hot best seller. Not only that... you can also upload your own document and print your own copy of your own book. I'm rather excited to find out that the printers of my own book, Lightning Source, are involved in this new venture.

At the moment the EBM is scattered around the globe in a few universities and book stores, but the numbers are growing. In the future you could literally get your coffee and book to go!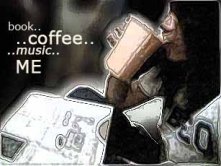 ...