...
Bunny Boy is back in the garden and has once again setting out his favourite snooze spots. Photos taken from the kitchen window tend to produce a small bunny blob, but at least it gives readers an idea of Bunny Boy's territory.
"Bunny Birdbath" is a concrete birdbath shaped a bit like a mushroom. BB (Bunny Boy) likes to sleep with his back up against that birdbath, especially on windy or rainy days. On sunny days he sleeps in a hollow in the grass... where he is in this photo on the right.
In between his two snooze spots lies bird territory. The tree and African birdbath belong to all the small birds and the grass in front belongs to the big birds. There was a female pheasant in the garden when I took the
photo
, so I labelled her as well. :-) The African birdbath is actually a grinding stone - for grinding grain. It has been in our family for three generations.
The little birds get seed in feeder tubes in the tree. For the crows I put food left overs and bread out on the grass. The seagulls usually try to get there first to gobble everything, so the crows have figured a plan. They grab the bread... and bury it! They either hide it in our garden under leaves or bushes, or they take it into the farm fields and literally bury it in the fields.
When the bread is dry the crows bring it back to dunk in the bird baths. They prefer their food moist. Smart birds, crows. ;-)
Well... this Saturday I'm standing in the kitchen watching BB sleep against his birdbath when suddenly he goes stiff... stares behind him. There on the wall is a crow, GLARING at BB. For a while they just sat there staring each other down. I'd never seen that happen before.
The crow hopped down and started walking towards BB, but BB did the macho-bunny thing of staring him down... till the last moment. Crows are big birds with sharp beaks. At the very last moment, just before he was in beak range, BB
took a big leap
sideways, then stretched and yawned... with his fuzzy tail facing the crow! As if he was saying, "I'll get out of your way, but I'll put my rear in your face." I think the message was clear?
Crow dashed over to the birdbath... and pulled out a bread slice! That was why the crow was so edgy - BB had been lying sleeping on some stashed crow bread. Once the crow had his lunch he was happy and BB returned to sleeping.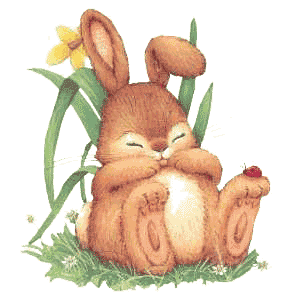 glitter-graphics.com
I've heard of toasted bread and warm buns, but bread warmed by a bun... ? I bet Bunny warmed bread is tastier than cold bread straight out the ground.
...